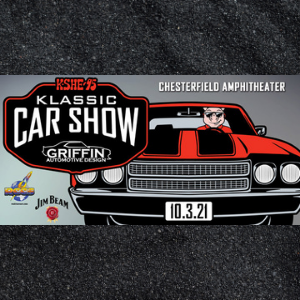 LOCATION: Chesterfield Amphitheater - 690 Chesterfield Parkway West Chesterfield, MO 63017
CAR REGISTRATION: 9:00am – 11:00am
DISPLAY CAR ADMISSION: $20 at the door (t-shirt not included)
SPECTATORS: 12:00pm - 4:00pm
LIVE MUSIC:
Lern with Lane Narrows 12:00pm – 1:30pm
Mark Klose with Klose Kuarters 2:00pm – 3:30pm
AWARDS: 3:30pm
Griffin Automotive Design presents the KSHE Klassic Car Show at Chesterfield Amphitheater on Sunday, October 3rd.
Show off your classic car or truck for a chance at first, second, and third place prizes professionally judged by Griffin Automotive Design.
Register your car by September 26th and get a commemorative KSHE Klassic Car Show t-shirt.
Spectators get in for FREE, so bring the whole family out for classic cars, live music from Klose Kuarters (Quarters) and Lane Narrows, food from Copper Fire, and more.
For more info, or to register your classic car, go to kshe95.com/carshow
Brought to you by Griffin Automotive Designs, your best choice for quality automotive custom and restoration service; RockIt Careers, Out of Work? Hate your job? Visit Rockit careers dot com today; and Jim Beam Classic Highball, When "I'll have the usual" just doesn't cut it.