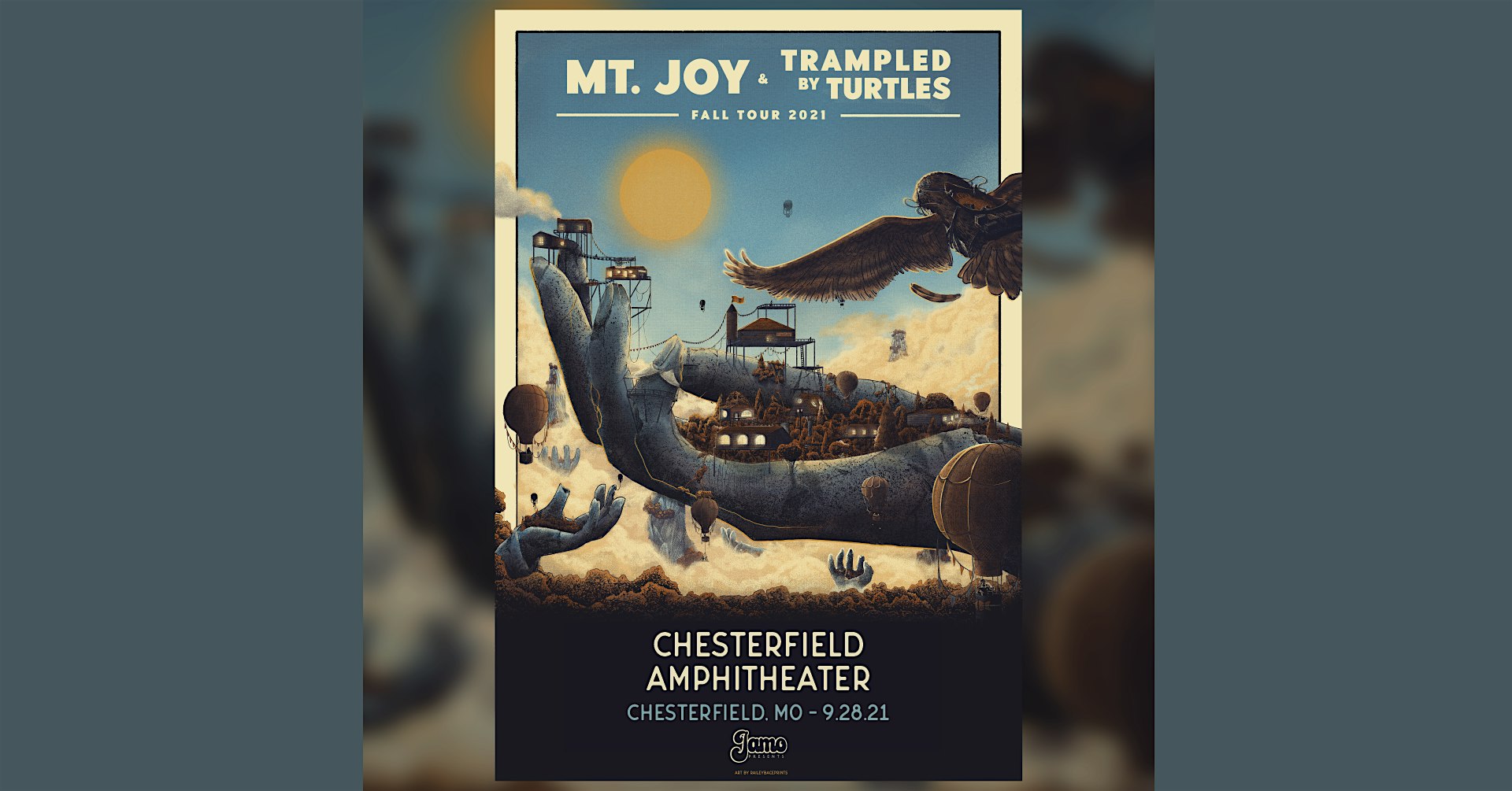 Mt. Joy & Trampled By Turtles Fall Tour 2021
Mt Joy & Trampled by Turtles Fall Tour at the Chesterfield Amphitheater, September 28, 2021
HEALTH AND SAFETY NOTICE:
Per the artist's request, for the safety of patrons, artists, and staff, attendees to the Mt. Joy & Trampled By Turtles show on September 28 must present proof of COVID-19 vaccination or a negative COVID-19 PCR test dated no more than 72 hours prior to the event date regardless of customer age.
Proof of COVID-19 Vaccination or Negative COVID-19 PCR Test can be a physical paper copy or a legible snapshot on your mobile device, along with a matching photo ID, to display upon admission.
If you are no longer able to attend, refunds must be requested by September 20, 2021.
REQUEST A REFUND:
https://www.eventbrite.com/support/articles/en_US/How_To/can-i-get-a-refund?lg=en_US
RSVP on Facebook! #TheChAmp
____________________________________________________________________________
Schedule
6:00 PM - Doors
7:00 PM - Music Starts
Food Trucks
Sugarfire
Wingnut
Classic Red Hots
FAQ
Is there Accessible Parking/Entrances? ›
What Do We Do In The Event of Inclement Weather? ›
How Do I Rent The Chesterfield Amphitheater? ›
Will Food And Beverage Be Provided? ›
Where Can I Find More Information About The Chesterfield Amphitheater? ›
*COVID-19 is highly contagious and is known to spread mainly from person-to-person contact. By attending an event, program or visiting a City of Chesterfield facility, you agree: (1) to abide by the procedures established by the St. Louis County Dept. of Health and the CDC to help protect attendees and staff; (2) to voluntarily assume the risk that you and/or your family may be exposed to or infected by COVID-19 at any and all Chesterfield events, programs or facilities; (3) to assume all the risks of attendance and participation for you and your family; (4) to waive all liability against the City of Chesterfield and all other parties associated with the event, programs and facilities; and (5) to agree to indemnify the City of Chesterfield for any claims brought against the City of Chesterfield by any person you have agreed to assume the risk for under these terms.