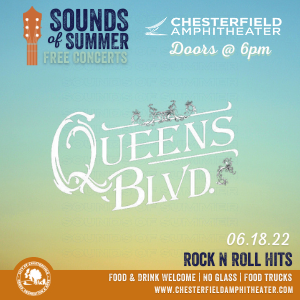 Queens Blvd: Rock N Roll Hits
Sounds of Summer FREE Concert Series - Rock N Roll hits with Queens Blvd!
*FREE EVENT* NO TICKETS REQUIRED
The Sounds of Summer Concert Series is FREE to the community. No ticket is required, however all guests will still go through the security checkpoint. For Sounds of Summer Concerts, guests are welcome to bring in their own snacks (no full meals) and alcoholic/non-alcoholic beverages (no glass).
__________________________
Schedule
Doors: 6:00 PM
Opener - TBA
Queens Blvd - 7:30PM
Food Trucks
FAQ
Is there Accessible Parking/Entrances? ›
What Do We Do In The Event of Inclement Weather? ›
How Do I Rent The Chesterfield Amphitheater? ›
Will Food And Beverage Be Provided? ›
Where Can I Find More Information About The Chesterfield Amphitheater? ›
*COVID-19 is highly contagious and is known to spread mainly from person-to-person contact. By attending an event at the Chesterfield Amphitheater, you are agreeing to abide by the procedures established by the St. Louis County Dept. of Health and the CDC to protect attendees and staff, and you voluntarily assume the risk that you and/or your family may be exposed to or infected by COVID-19 either at Central Park, or within the grounds of the Chesterfield Amphitheater. You agree to assume all the risks of attendance and participation for you and your family, and you waive any liability against the City of Chesterfield and all other parties associated with the event.*