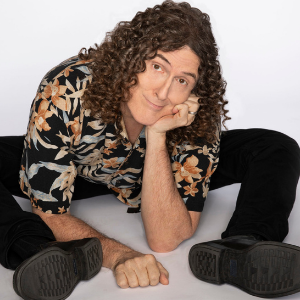 "Weird Al" Yankovic - The Unfortunate Return of the Ridiculously Self-Indulgent, Ill-Advised Vanity Tour
SPECIAL GUEST: Emo Philips
"Weird Al" Yankovic LIVE at The Chesterfield Amphitheater on August 28, 2022! Tickets on sale NOW!!!
"Weird Al" Yankovic burst onto the scene over three decades ago and never looked back. For the second time in his storied career, the world's foremost musical satirist and five-time Grammy winner foregoes his usual high-octane, big-production show for an intimate evening of music, focusing on original (non-parody) songs from his 14-album catalog. Marking his highly anticipated return to the concert stage after his hugely successful Strings Attached Tour in 2019 where Weird Al performed each night alongside a full symphony orchestra, this is a rare opportunity to get up-close and personal with this legendary performer.
VIP Ticket Info: https://www.cidentertainment.com/events/weird-al-tour/
Pit - Provided fixed seats
North/South Reserved - Stadium seats
North/South Terrace - Provided fixed seats
Lawn - lawn chairs and blankets allowed
Schedule
6:30PM - Doors
7:45PM - Show Starts
Food Trucks
Artist Biography
"Weird Al" Yankovic is the biggest-selling comedy recording artist of all time. A five-time Grammy winner, his 2014 release Mandatory Fun was the first comedy album in history to debut at #1 on Billboard's Top 200. He is one of only five artists to have had Top 40 singles in each of the last four decades, the other four being Michael Jackson, Madonna, U2, and Kenny G. On August 27, 2018, the Hollywood Chamber of Commerce awarded Weird Al with a star on the Hollywood Walk of Fame.
Legendary comedian Emo Philips has performed over 7000 stand-up comedy shows across the globe, including a two-week theater run in London's West End. Career highlights include his acclaimed comedy album E=MO Squared and the hour-long HBO special Emo Philips Live at the Hasty Pudding Theatre. Emo is especially proud, however, of when he got to demonstrate the proper use of a table saw to Weird Al in the film UHF.
FAQ
Is there Accessible Parking/Entrances? ›
What Do We Do In The Event of Inclement Weather? ›
How Do I Rent The Chesterfield Amphitheater? ›
Will Food And Beverage Be Provided? ›
Where Can I Find More Information About The Chesterfield Amphitheater? ›
*COVID-19 is highly contagious and is known to spread mainly from person-to-person contact. By attending an event, program or visiting a City of Chesterfield facility, you agree: (1) to abide by the procedures established by the St. Louis County Dept. of Health and the CDC to help protect attendees and staff; (2) to voluntarily assume the risk that you and/or your family may be exposed to or infected by COVID-19 at any and all Chesterfield events, programs or facilities; (3) to assume all the risks of attendance and participation for you and your family; (4) to waive all liability against the City of Chesterfield and all other parties associated with the event, programs and facilities; and (5) to agree to indemnify the City of Chesterfield for any claims brought against the City of Chesterfield by any person you have agreed to assume the risk for under these terms.