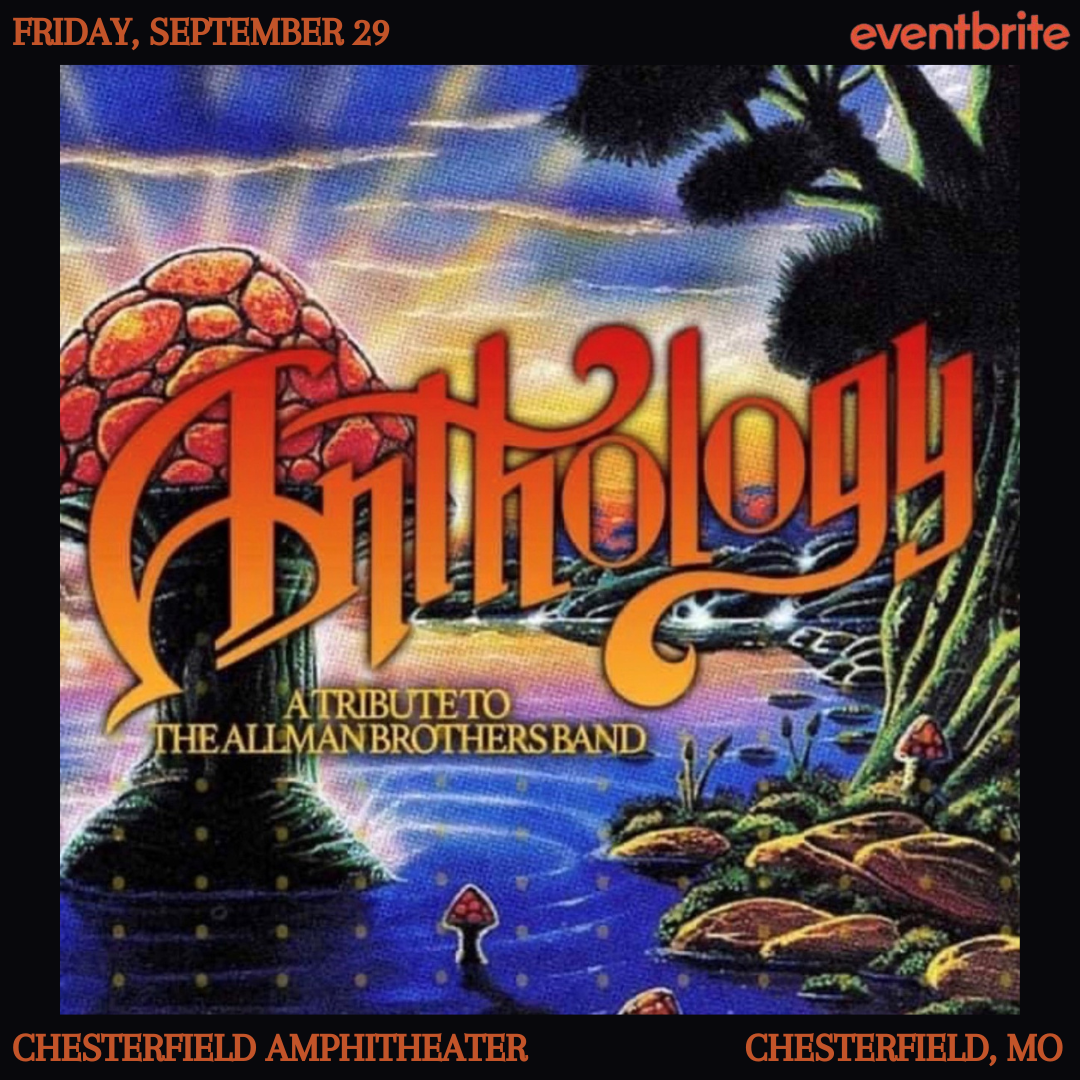 Anthology - Tribute to the Allman Brothers Band
FEEL
Anthology - Tribute to the Allman Brothers Band takes #TheChAmp stage on Friday, September 29th, 2023! Tickets on sale NOW!
About Anthology
Anthology pays tribute to the Allman Brothers Band in the highest fashion, bringing with them some honest pedigrees to this legendary music.
This band began in 2017 out of a coffee shop meeting between Dave Kalz, who was the founding lead guitarist for Devon Allman's Honeytribe, Danny Liston, who toured as a member of the Gregg Allman Band in the late 1970's, and Dickie Steltenpohl, who had also toured with Gregg in the late '70's.
Within weeks, Kalz had pulled in his old buddy, Mike Zito - from Royal Southern Brotherhood, who also brought Yonrico Scott (drummer for Derek Trucks Band and Royal Southern Brotherhood) into the fold. Danny and Dickie reached out to former Mama's Pride keyboardist, Tom Denman and drummer James Jackson (who had played with the likes of the George Benson and Level 42), and a lineup was formed!
The band debuted at Delmar Hall - St. Louis in Jan of 2018 with a 2 hour plus electrifying show of classic Allman Brothers music. The show was over-sold out and the theater was still turning people away at the door. From there, the band went on to doing shows in Texas, including a packed house at Houston's Dosey Doe, and a double bill with the one and only guitarist for Neil Young's Crazy Horse and Ringo Starr's All-Star Band, Nils Lofgren, at the Jefferson Theater in Beaumont, TX.
Immediately after the bands third successful return to St. Louis, in Sep of 2019, tragedy struck when Mike Zito received the phone call just 6 days after their show, that Yonrico had passed away. The band, in shock, went dormant. Then Covid hit an unprepared nation and the music industry was devastated.
Finally, in the fall of 2020 the band returned, with a re-shuffled lineup, intent to light the audience on fire with their return to St. Louis, for a sold out show at The Pageant Theater. And light it up they did, with a hard hitting show, above and beyond audience expectations….. only for covid to re-emerge and another 6 months of dormancy.
Anthology re-emerged in May of 2021 with another successful appearance at the Pageant, followed by two sold out shows at the Wildey Theater, in Edwardsville, IL. By the time the band hit Edwardsville, they had risen to new heights, playing two burning sets each night that had audiences on their feet from the very start of the show.
Anthology has been at it nonstop since then, and audiences cannot seem to get enough of this show. A real treat for fans of the Allman Brothers that you won't want to miss!
Current lineup for the band:
Danny Liston (formerly of the late 1970's Gregg Allman touring band, and founding member of former Atlantic Records Recording Artist, Mama's Pride): Lead and Backing Vocals, guitar
Dickie Steltenpohl (formerly of the late 1970's Gregg Allman touring band; also long time member of former Atlantic Records Recording Artist, Mama's Pride): Bass Guitar and backing vocals
Tyler Armstrong: Lead guitar
Matt Rowland (Independent Recording Artist and member of The People's Key): Lead guitar
Tom Denman (former member of Mama's Pride): Keyboards, lead and backing vocals
Rob Lee (former band member for Ruf Records and Gulf Records Recording Artist, Mike Zito): Percussion
Mark Kersten (formerly of Butch Wax and the Hollywoods): Percussion
Live Videos:
https://www.youtube.com/watch?v=zoeJBqul-38
https://www.youtube.com/watch?v=jxPKPz7xvJI
https://www.youtube.com/watch?v=dWjbLYhsh1I
About FEEL:
"A band of artists with the mindset of creating and playing music with the passion and focus that once was, and now is. Sounds and feel of the past made present once again. This group nods at the blues, jazz, and rock & roll roots of St. Louis, stirs in the experimental revolution of the 1960s, and incorporates the vast array of sounds introduced by British hard rock and Laurel Canyon that defined the sound of the 70s - intertwining to become what is now known as FEEL.
The band has been making a name for themselves opening for Cheap Trick, 38 Special, Rival Sons, and John Waite, and they're excited to be back on the road supporting their new single "Find A Love."'
​ON-SALE: Friday, June 9th at 10am
ADV GA - $20
DOS GA - $25
4 PACK GA - $60
(stadium seating is first come, first serve)
----------------------------------------
Schedule
6:00 PM - Doors
6:30 PM - Show Starts
*Please note that set times are subject to change without notice.*
Food Trucks