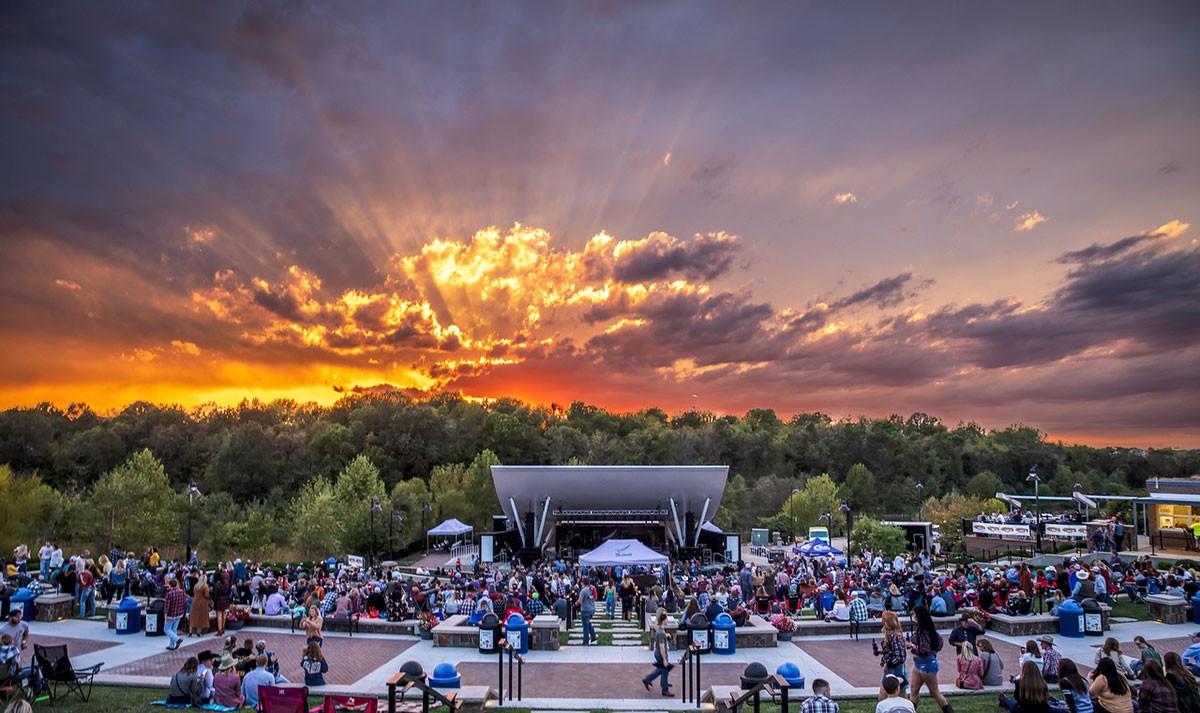 About Chesterfield Amphitheater
The Chesterfield Amphitheater is a beautiful outdoor amphitheater that is truly unique to the region and the perfect place to see your favorite artists perform! A gorgeous setting, amazing acoustics, and not a bad seat in the house! Come check us out, you will not be disappointed and the Chesterfield Amphitheater might just become your new favorite concert venue!
The Chesterfield Amphitheater can host a variety of theatrical, musical, educational, and corporate events. The facility can seat up to 4,000 patrons and provides a large stage with fixed and lawn seating, concession and restroom areas, and power and audio infrastructure to accommodate small to medium sized events. Take advantage of the full spectrum of adjacent amenities set within Central Park, the lake gazebo, pedestrian bridges, stream walks, lake, trails, playground, Aquatic Center and public art sculptures, including the Awakening.
History of the Chesterfield Amphitheater
Only ten years old, the Chesterfield Amphitheater has been host to artists such as Kenny Loggins, Big Head Todd and the Monsters, Frankie Ballard, the Strumbellas, Scottie McCreery, Chris Janson, Cody Johnson, Sunny Sweeney, Gladys Knight, Diamond Rio, Edwin McCain, Peabo Bryson, The Yellow Jackets, The Urge, Umphrey's McGee, STS9, Mixmaster Mike, Puddle of Mudd, Paul Taylor, Henry Cho, Theo Peoples, Dwight Yoakam, David Benoit, Big Head Todd and the Monsters, Otis Clay, Head East, Ace Frehley, Jon Anderson(Yes), Troop, Silk, Erin Bode, Jeremiah Johnson Band, Royal Southern Brotherhood, Celebration Day, Dark Star Orchestra, Tyler Florence, Bear Hands, Billy Currington, Sammy Kershaw, Aaron Tippin, Collin Raye, Blackberry Smoke, Randy Rogers, The Schwag, Gary Allan, Lee Brice, Mt. Joy, and Aaron Lewis..
Businesses interested in sponsoring an event should contact the Chesterfield Parks, Recreation & Arts Division at 636.812.9503 or visit our Sponsorship Opportunities page.
For rental information, contact the Chesterfield Parks, Recreation & Arts Division at 636.812.9500.