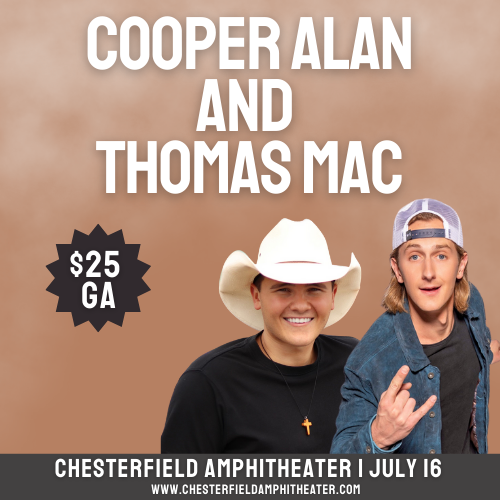 Cooper Alan and Thomas Mac
Cooper Alan and Thomas Mac take the Chesterfield Amphitheater stage on July 16!
ON SALE MAY 27, 2022 at 10AM CST!
Tickets:
GA - $25
Schedule
6:00 PM - Doors
7:00 PM - Music Starts
Food Trucks
Chick-Fil-A
Tropical Sno
Heavy Smoke
If you like country music and you're on any social media app, you've probably seen Cooper Alan on your screen in the past two years. The up-and-coming country star has independently built a fanbase of over 8.5 million followers and has earned over 80 million streams on his music. Originally from Winston Salem, NC, he spent his high school and college years playing bars, college campuses, and Honky Tonks all across the Carolinas. He and his band became the "go to" for great music and a high energy, all night throwdown performance.
After graduation, Cooper packed up his guitar and moved to Nashville as fast as he could, where he had the incredible luck of meeting hit songwriter/producer Victoria Shaw who signed him within weeks to a publishing deal. He is fortunate and proud to have the opportunity to write songs with people like Rivers Rutherford, Seth Mosley, Matt Nolen, Skip Black, Kent Blazy, Desmond Child, Jeffrey Steele, and Victoria Shaw.
(Cooper's music has been streamed over 50 million times) His hit singles include "New Normal", "Tough Ones", "Colt 45 (Country Remix)", "Can't Dance", and many more. His songs have reached #1 on the iTunes Charts multiple times. This past year, Cooper started his own record label (Cooped Up Records) and began to translate his social media audience into killer live shows, selling out venues all across the country. Because of his streaming and live touring success, he was named a "Next Big Thing" artist by Music Row Magazine.
Thomas Mac is an up-and-coming country artist you'll want to keep your eye on! After having a song, he wrote go viral on social media, he moved to Nashville, where he started
catching the eye of people in the industry.
He was offered his first record deal at the age of 20 and performed for the first time on The Grand Ole Opry stage that same year. Thomas has found a way to walk the line between
modern and traditional country.
Today, Thomas has an enormous social media presence with millions of views and over 2 Million followers on TikTok alone.
FAQ
Is there Accessible Parking/Entrances? ›
What Do We Do In The Event of Inclement Weather? ›
How Do I Rent The Chesterfield Amphitheater? ›
Will Food And Beverage Be Provided? ›
Where Can I Find More Information About The Chesterfield Amphitheater? ›
*COVID-19 is highly contagious and is known to spread mainly from person-to-person contact. By attending an event, program or visiting a City of Chesterfield facility, you agree: (1) to abide by the procedures established by the St. Louis County Dept. of Health and the CDC to help protect attendees and staff; (2) to voluntarily assume the risk that you and/or your family may be exposed to or infected by COVID-19 at any and all Chesterfield events, programs or facilities; (3) to assume all the risks of attendance and participation for you and your family; (4) to waive all liability against the City of Chesterfield and all other parties associated with the event, programs and facilities; and (5) to agree to indemnify the City of Chesterfield for any claims brought against the City of Chesterfield by any person you have agreed to assume the risk for under these terms.