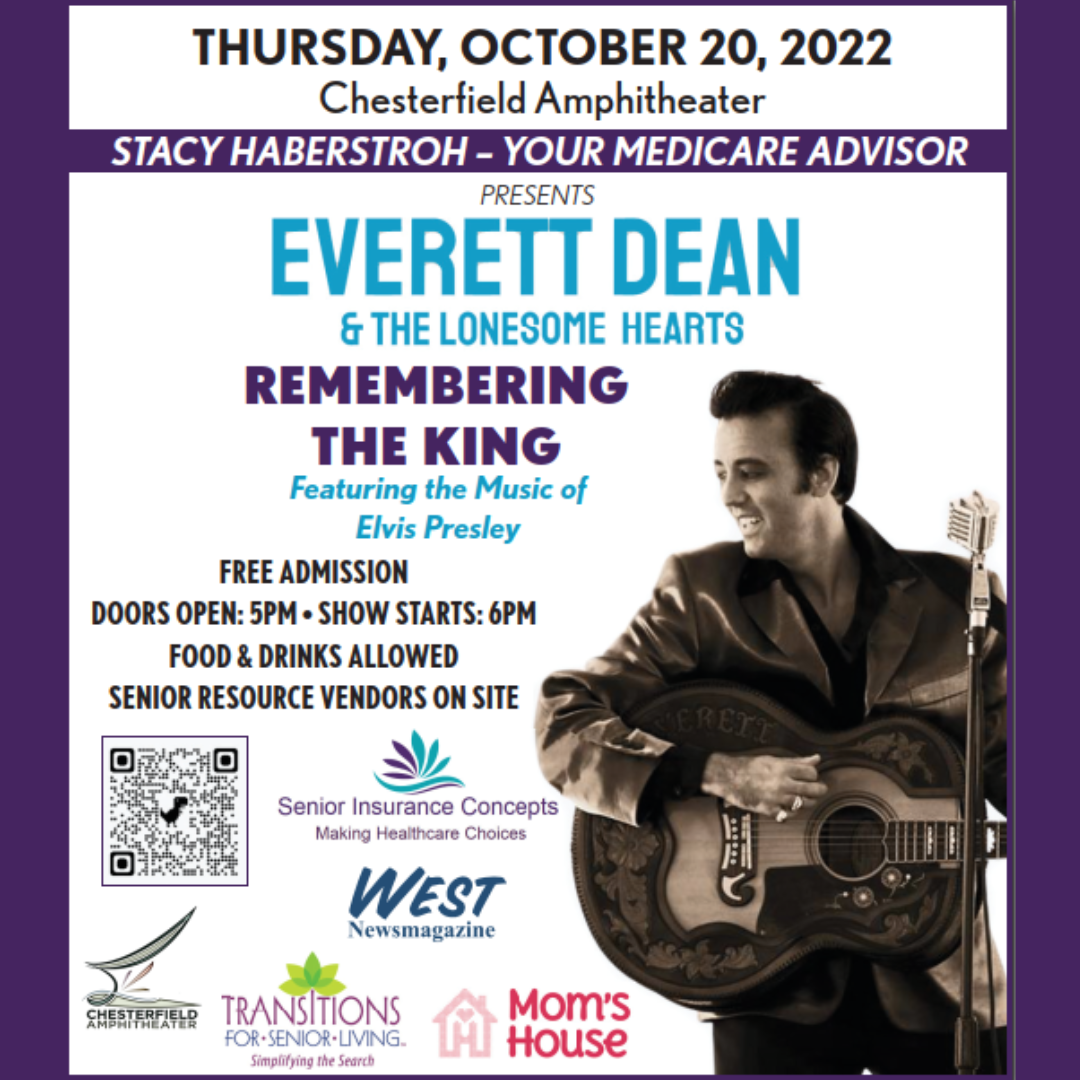 Everett Dean & The Lonesome Hearts
Remembering The King: Featuring the Music of Elvis Presley on October 20, 2022 at The Chesterfield Amphitheater.
FREE ADMISSION - NO TICKETS OR RESERVATIONS REQUIRED!
everettdean.com – Welcome to the World of Everett Dean
Medicare | Senior Insurance Concepts | United States
Presented by Stacy Haberstroh, Your Medicare Advisor with Senior Insurance Concepts.
Food & Beverage Allowed (alcoholic and non-alcoholic). No Glass, Please.
All seating is General Admission, first come, first serve including fixed stadium seating. Lawn Chairs and Blankets are welcomed inside.
Coolers allowed.
Senior Resource vendors will be on site.
----------------------------------
Stacy Haberstroh, Your Medicare Advisor, is the owner and founder of Senior Insurance Concepts. She is a licensed insurance broker serving as intermediary who sell, solicits and negotiates insurance on the behalf of her clients. She has been an insurance broker for over 20 years and is contracted with all the major healthcare insurance carriers in the area. Stacy explains how the Medicare system works using clear, easy-to-understand language. She takes the time to explain the difference between a Medicare Supplement Plan and a Medicare Advantage plan. She explains the Medicare Part D, prescription drug plans, offering tips on how to get the lowest cost on your prescriptions drugs.
Stacy educates her clients on the pros and cons of the Medicare plans, helping them make a healthcare choice that best fits their needs. Stacy has assisted thousands of seniors and their families as they transitioned into Medicare. She regularly offers seminars, though out the St. Louis region on the topics of aging and Medicare healthcare choices. She is currently offering the "OMG - I am turning 65" and "Putting together the Medicare Puzzle" seminars throughout the West County area. Stacy brings clients hands-on experience as both an industry executive and individual consultant. She is currently working on assisting clients with their Yearly Medicare Review for the Open Enrollment period, which runs between October 15- December 7 each year, as well as educating clients getting ready to turn 65 and enter into Medicare for the first time. Stacy appreciates all of her customers and referral partners support has she tries to teach others the Medicare Language.
---------------------------------
Schedule
5:00 PM - Doors
6:00 PM - Show Starts
Food Trucks
Mouse in the House Charcuterie
FAQ
Is there Accessible Parking/Entrances? ›
What Do We Do In The Event of Inclement Weather? ›
How Do I Rent The Chesterfield Amphitheater? ›
Will Food And Beverage Be Provided? ›
Where Can I Find More Information About The Chesterfield Amphitheater? ›
*COVID-19 is highly contagious and is known to spread mainly from person-to-person contact. By attending an event, program or visiting a City of Chesterfield facility, you agree: (1) to abide by the procedures established by the St. Louis County Dept. of Health and the CDC to help protect attendees and staff; (2) to voluntarily assume the risk that you and/or your family may be exposed to or infected by COVID-19 at any and all Chesterfield events, programs or facilities; (3) to assume all the risks of attendance and participation for you and your family; (4) to waive all liability against the City of Chesterfield and all other parties associated with the event, programs and facilities; and (5) to agree to indemnify the City of Chesterfield for any claims brought against the City of Chesterfield by any person you have agreed to assume the risk for under these terms.