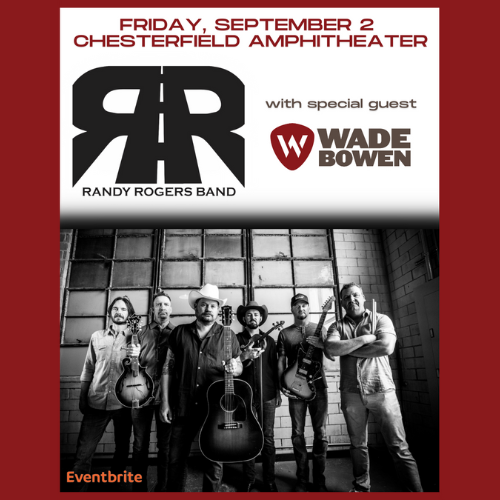 Randy Rogers Band
Wade Bowen
The Randy Rogers Band with special guest Wade Bowen take the Chesterfield Amphitheater stage on September 2, 2022!
TICKETS ON SALE NOW!!!
About Randy Rogers Band:
Fronted by singer-songwriter Randy Rogers and featuring Geoffrey Hill (guitar), Jon Richardson (bass guitar), Brady Black (fiddle), Les Lawless (drums), and Todd Stewart (guitar, fiddle, mandolin, keyboards), the Randy Rogers Band was founded in San Marcos, Texas, and has spent the last 20 years bringing the Texas Country tradition to dedicated fans around the nation and beyond. With eight studio albums behind them, global streaming numbers in the hundreds of millions and a reputation for must-see Country-Rock performances, the band has charted seven singles on the Billboard Hot Country Songs chart, two Top 10 hits at national Country radio and numerous Texas Country Radio chart #1s, securing its place in the pantheon of Texas musical giants. Following the release of 2019's HELLBENT (produced by Grammy-winner Dave Cobb), the group is set to return with a new album marking two decades together next spring, going back to where it all started with original producer Radney Foster. The project's first single, "Picture Frames," is out now.
About Wade Bowen:
Twenty years and some 4,000 shows into his career, the name Wade Bowen has become synonymous with Texas country music – and for good reason. An artistic descendant of American icons like Guy Clark, Ray Wylie Hubbard, Robert Earl Keen and more, Bowen is another link in a Texan chain of roots-rock poets stretching back more than 50 years – but his ambition never ended at the state line.
"I will carry that flag proudly," Bowen says of his Red-Dirt distinction. "But I've always said I'm not a 'Texas artist,' I'm an artist from Texas, and I think there's a difference."
Seen as one of the genre's finest and most authentic modern voices, Bowen's approach stays rooted in tradition, but also stands on the creative cutting edge. His focus remains on writing unique songs with a literary quality, and shifting his sonic territory to match his life.
Wielding a knack for direct, poetic songwriting that never panders, Bowen matches his gravel-road growl to an organic sound spanning the whole of Texas, tapping both country and rock influences. A dozen albums have shown his sonic diversity – including six studio sets, two live collections, a gospel album and an ongoing series of buddy-country hits with fellow Texan, Randy Rogers.
Along the way, he's scored hits and accolades based on quality, not quantity, and continues to perform around 200 nationwide shows each year – including multiple appearances on the venerated Grand Ole Opry.
Tickets:
GA Lawn - $25
Reserved - $55
GA Pit - $55
VIP Deck - $65
4 Pack GA Lawn - $80
Schedule
6:00 PM - Doors
Food Trucks
FAQ
Is there Accessible Parking/Entrances? ›
What Do We Do In The Event of Inclement Weather? ›
How Do I Rent The Chesterfield Amphitheater? ›
Will Food And Beverage Be Provided? ›
Where Can I Find More Information About The Chesterfield Amphitheater? ›
*COVID-19 is highly contagious and is known to spread mainly from person-to-person contact. By attending an event, program or visiting a City of Chesterfield facility, you agree: (1) to abide by the procedures established by the St. Louis County Dept. of Health and the CDC to help protect attendees and staff; (2) to voluntarily assume the risk that you and/or your family may be exposed to or infected by COVID-19 at any and all Chesterfield events, programs or facilities; (3) to assume all the risks of attendance and participation for you and your family; (4) to waive all liability against the City of Chesterfield and all other parties associated with the event, programs and facilities; and (5) to agree to indemnify the City of Chesterfield for any claims brought against the City of Chesterfield by any person you have agreed to assume the risk for under these terms.