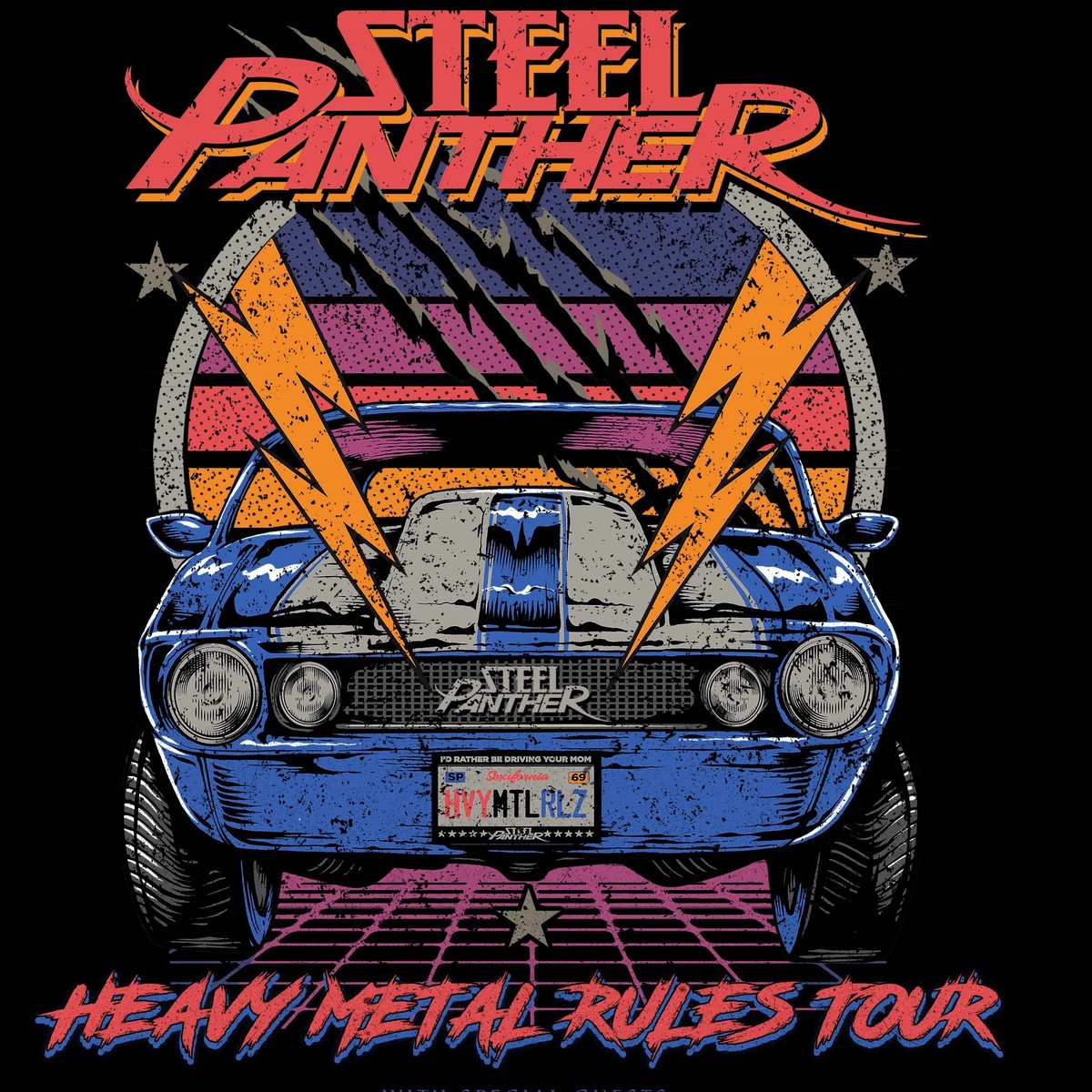 Steel Panther
Adelitas Way
KSHE 95 MONDAY NIGHT METAL WELCOMES Steel Panther along with special guest Adelitas Way June 3, 2021 at the Chesterfield Amphitheater!
Website: www.steelpantherrocks.com
Twitter: @Steel_Panther
Facebook: https://www.facebook.com/steelpanther
Instagram: @steelpanther
____________________________________________________________________________
Schedule
5:30PM – Doors
6:30PM – Adelitas Way
7:45PM – Steel Panther
9:15PM- End
Food Trucks
TBD
Artist Information
Move over NASCAR! The band that burns more rubbers than Bubba Wallace, Steel Panther is bringing their debaucherously fun concert experience to CHESTERFIELD, MO on JUNE 3RD. The band is going to be performing LIVE at CHESTERFIELD AMPHITHEATER as part of the HEAVY METAL RULES TOUR. Tickets for the show range between $35-$75 and are available for purchase here: LINK TO TICKETS.
With sold-out headline shows and numerous festival appearances globally, Steel Panther is known as one of the best live bands performing today. The show on JUNE 3RD will be full of Steel Panther classics and hilarity. Songs like "Community Property," "Death To All But Metal" and later hits like "Poontang Boomerang" and "Let's Get High Tonight" have become fan favorites and concert highlights. Attendees may even find a few surprise covers will make their way into the set.
"Get your party shoes on and get ready for the greatest concert you will hear about today. This is Steel Panther live and out of our cage in Los Angeles. You're welcome America!! Unfortunately, the local government has informed us that it is totally ILLEGAL to attend this concert naked. They blamed Covid; so please STILL wear a mask when you're around strangers!"
FAQ
Is there Accessible Parking/Entrances? ›
What Do We Do In The Event of Inclement Weather? ›
How Do I Rent The Chesterfield Amphitheater? ›
Will Food And Beverage Be Provided? ›
Where Can I Find More Information About The Chesterfield Amphitheater? ›
*COVID-19 is highly contagious and is known to spread mainly from person-to-person contact. By attending an event, program or visiting a City of Chesterfield facility, you agree: (1) to abide by the procedures established by the St. Louis County Dept. of Health and the CDC to help protect attendees and staff; (2) to voluntarily assume the risk that you and/or your family may be exposed to or infected by COVID-19 at any and all Chesterfield events, programs or facilities; (3) to assume all the risks of attendance and participation for you and your family; (4) to waive all liability against the City of Chesterfield and all other parties associated with the event, programs and facilities; and (5) to agree to indemnify the City of Chesterfield for any claims brought against the City of Chesterfield by any person you have agreed to assume the risk for under these terms.